Category:
Main
/
SYSTEMS FOR CALLING VISITORS TO THE OFFICE HostCall-CV
"HostCall-MP-911W2" Radio set of light and sound calls to the office
Price: 18 260.00 RUB.
Description
The "HostCall MP-911W2" visitor radio call kit is designed for light and sound notification of visitors ' readiness to receive from employees who are in the offices.
The MP-911W2 set consists of the MP-740R2 light and sound display and the MP-411D1 call button, which combines the " Do not enter" and "Enter" radio buttons in a single case . The call button is installed in the office , and the light Board is installed in the corridor, where visitors are waiting in the queue for admission to the office. The figure shows a block diagram of the components of the MP-911W1 kit.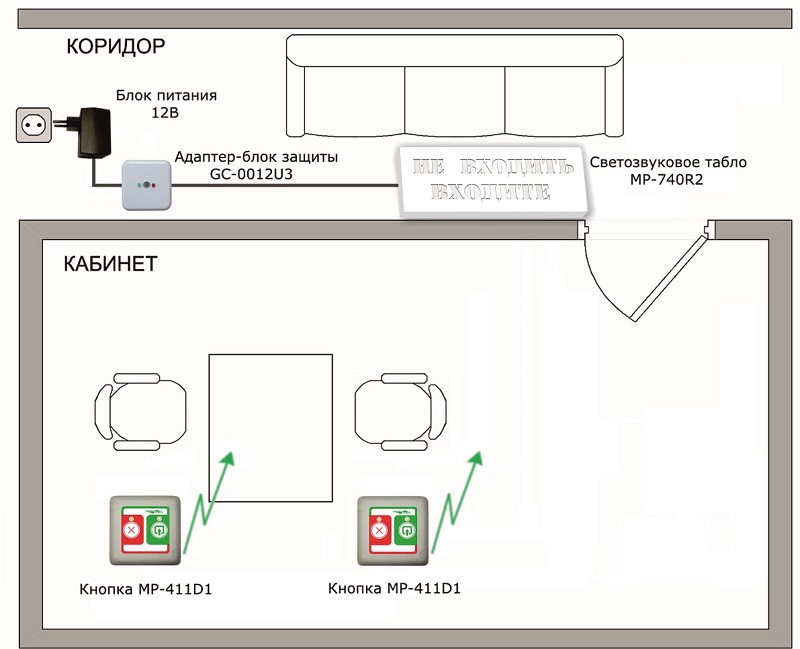 To invite a visitor, the staff clicks on the radio button with the corresponding icon . At the same time, the led on the radio button briefly turns green and goes out. On the light and sound Board, the sign "ENTER" is highlighted in flashing green and a tonal sound signal is repeatedly played, attracting the attention of visitors. The user sees the sign "ENTER" and goes to the office. After the user enters the office, the employee presses the button with the icon . At the same time, the led on the radio button briefly turns red and goes out. The sign "DO not ENTER" is highlighted in continuous red on the light Board, which informs other users that the employee is currently busy. The audio signal is not played in this case.
If you need to control from a second workstation, program an additional MP-411D1 radio button. In
up to 10 additional MP-411D1 radio buttons can be programmed in the MP-911W2 kit.